Watch: Russian Football Blasted After A Bear Hands Match-Ball To Referee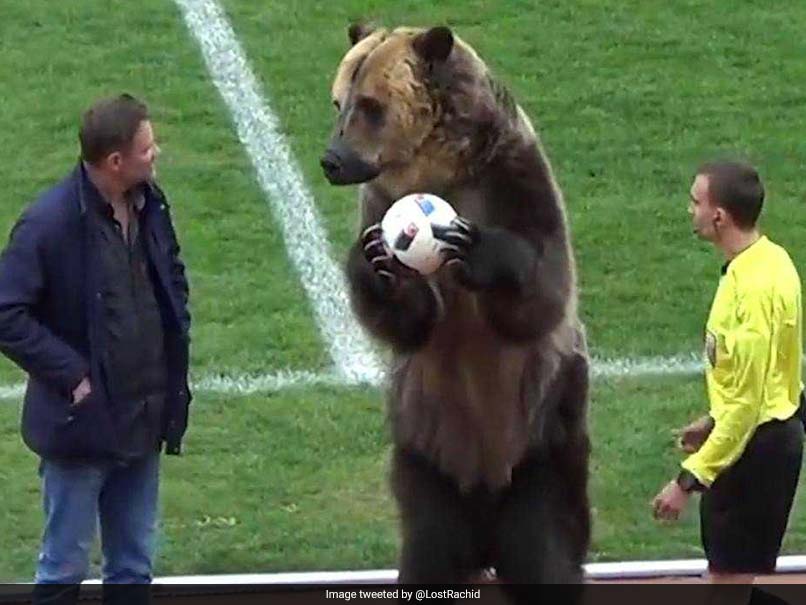 The bear was muzzled and made to perform tricks before a Russian football match. © Twitter
The Russian football league has come under heavy fire after a video surfaced of a muzzled grizzly bear being used to perform tricks before the start of a match. The bear, reportedly called 'Tim', was seen presenting the match-ball to the referee before clapping to fans while standing on his hind legs before a Russian third-tier game between Mashuk-KMV and Angusht. The video went viral and drew widespread condemnation from animal rights groups and fans on social media. Elisa Allen, director of animal welfare charity Peta, called the incident "inhumane and utterly out of touch".
"In addition to being inhumane, using a bear as a captive servant to deliver a football is downright dangerous," Elisa Allen was quoted as saying in the English media.
"The bear is the symbol of Russia, so we hope the country's people will show some compassion and national pride and stop abusing them. Common decency should compel the league to pull this stunt," she added.
Fans on social media platform Twitter were also left outraged by the incident.
Performing bear at Russian football match, inhumane and inexcusable. Sickening.


— Lynda McIvor (@deanabarbina) April 17, 2018
The ridiculing of the bear at a Russian football match was indeed upsetting. Yes, humans are essentially sheep, but someone could have made a stand to say that this is not nice.


— Henry Flynn (@quiqueflynn5) April 16, 2018
Lovely bear being shown at a football game in Russia, made to clap etc. Stupid Russian scum involved in this display should be arrested and put away for a very long time. Typical act in this country.


— Teddyb (@teddyb1939) April 16, 2018
Only two months left to go for more Russian bear football antics…


— Adele K. Thomas(@AdeleKThomas) April 17, 2018
The incident has left the footballing world in complete shock especially with the fact that Russia will be hosting the 2018 FIFA World Cup, starting June.
Meanwhile, Russia's Premier League is following the lead of its English counterparts by launching an animal logo to win over fans: a red-eyed bear.
While the English top flight has its iconic royal blue lion, Russia has launched a logo of its own national animal just two months ahead of the World Cup kick-off in the country.
loading...